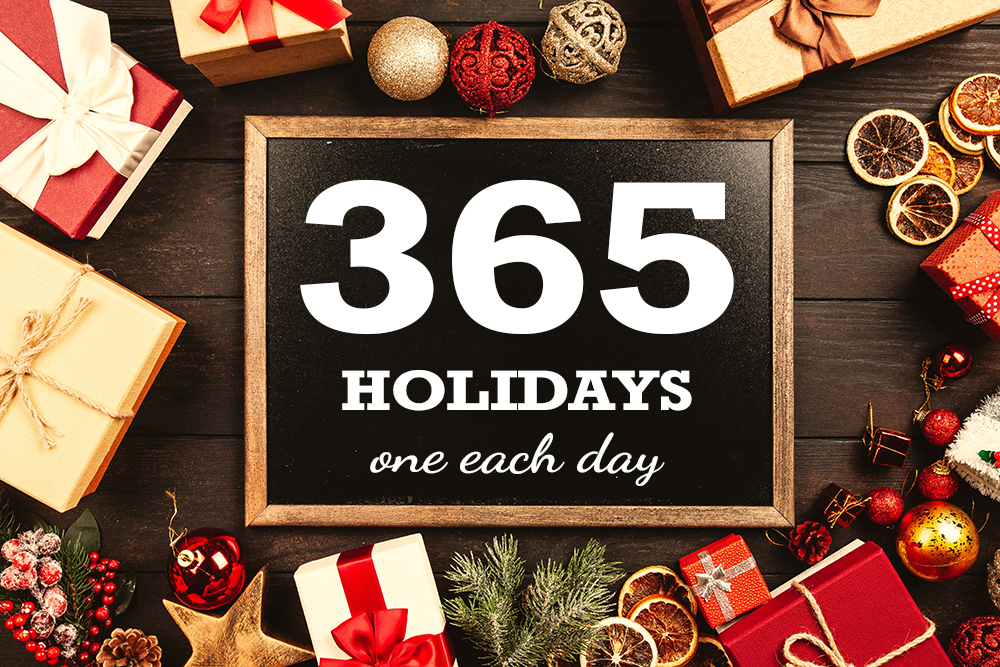 We start every year with a holiday, end every year with a holiday, and spend the 12 months in between inundated by holidays.
At their best, holidays can help us honor and celebrate. At their worst, holidays are thinly veiled marketing ploys meant to sell you stuff. But beauty is in the eye of the beerholder: celebrate what you support!
Official Holidays 2021
There are only two types of holidays:
Holidays that get us off work
All other holidays
The holidays that get us (Americans) off of work are called Federal Holidays and are dictated determined by the government. There are 11 Federal Holidays in 2021:
January 1st: New Year's Day (Friday)
January 18th: MLK Day (Monday)
January 20th: Inauguration Day (Wednesday)
February 15th: Washington's Birthday (Monday)
May 31st: Memorial Day (Monday)
July 5th: Independence Day (Monday)
September 6th: Labor day (Monday)
October 11th: Columbus Day (Monday)
November 11th: Veteran's Day (Thursday)
November 25th: Thanksgiving Day (Thursday)
December 24th: Christmas Day (Friday)
We all know that Independence Day is on July 4th, but the observed holiday (aka your day off) occurs on Monday, July 5th. That's because when a federal holiday lands on a Sunday the observed day gets pushed back to Monday; if the actual holiday is on a Saturday the observed holiday is pulled forward to Saturday. These dates are established years in advance (see future Federal holidays: 2022, 2023, 2024, 2025, 2026, 2027, 2028, 2029, 2030)
All Holidays 2021
Now it's time to tame the hoard of holiday squatters that arbitrarily lay claim to the precious real estate on our calendars and in our hearts.
Staying true to our name, we've limited our list to one holiday per calendar day. They've been selected from actual holidays observed each year with the intent to inform, amuse, educate, and entertain.
It's an admittedly non-scientific approach based upon Editor's Choice, but when you've got Jesus and Martin Luther King Jr. competing for market share with Avocados and IPAs, somebody has to draw a (non-yellow) line in the snow. Holidays without links require further research.
January Holidays
February Holidays
March Holidays
April Holidays
May Holidays
June Holidays
July Holidays
August Holidays
September Holidays
October Holidays
November Holidays
December Holidays
Real Holidays vs. Fun Holidays
The difference between a real holiday and a fun holiday can be hard to identify. We consider a "real holiday" to be one that is:
Created for authentic purposes (not solely marketing)
Generally accepted by a group of key stakeholders
Selected for a specific date with meaning and purpose
We've refrained from labeling "Fun Holidays" as "Fake Holidays" because if a tree falls in a forest next to a guy celebrating a fake holiday by himself, the holiday still exists.
That being said, it's worthwhile to give the "real holidays" some special attention; "fun holidays" that prove their worth can always make the leap from JV to Varsity.
There are also holiday weeks, holiday months, and even holiday years and decades, but we didn't want to put all of our eggs in one Easter Basket (so we put them in 365).