If your work requires any form of email socializing, Rapportive is the Chrome extension you have been looking for. Breaking the ice over an internet conversation can be hard, which makes it more complicated for your audience to connect to you. What Rapportive does is give you information about your recipient straight from your email page.
It gets rid of the ads on the right side of your Gmail page, replacing them with valuable information about your Gmail contact. You can get data from a plethora of networks, including Twitter, Facebook, Google, Blogger, Picasa, Vimeo, YouTube and many more.
Need to break the ice? How about seeing the person's Facebook comments to see if he has attended any concerts or sports events? Or maybe take a quick look at his posts and images to see if he has traveled anywhere recently, then make a comment on it.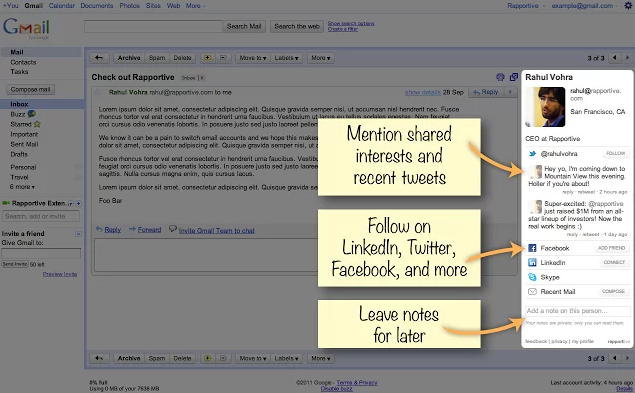 After using it for a couple weeks, I have been able to keep email conversations much more alive. Something that can be hard to accomplish due to the internet's lack of human connection. Just make sure you don't seem like a creep, either. You don't want to sound like a stalker!
We definitely recommend Rapportive, even if it is just to see what your friends are up to while writing them an email. I have found no issues with it, and it works flawlessly with my contacts. Some may lack certain networks and other details, but that is a given. All the app really does is get the information you already have access to, and put it all together in your email.
Chrome Web Store: Rapportive Chrome Extension