Gone are the days when one needed a third-party Chrome extension to be able to use Google Keep on Chrome (without having to go to the website). It took Google about a month and a half to release an official Google Keep Chrome app, but it was finally announced and released today.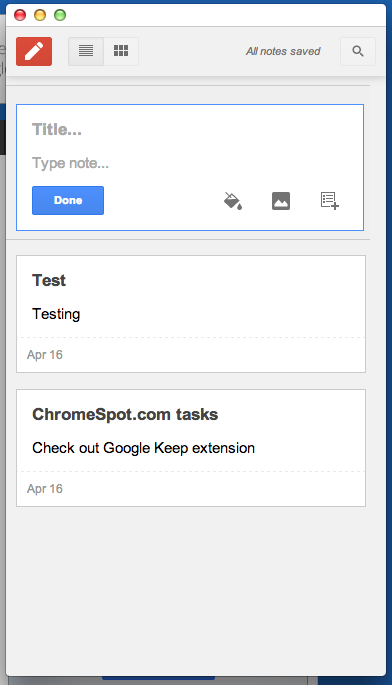 It looks and works very much like to the unofficial Google Keep extension we showed you last month (now we know why that one was recently taken down). The app will launch on a separate, smaller window that can float above your browser. I love this feature as it gives you much more flexibility. It can float above other websites and you can work on your notes while doing other things.
I hate having to open a separate pages for accessing services like Google Keep. This is why I was worried when I saw that this was a Chrome app and not an extension. Google managed to make it right, though. And it opens the door to the future of Chrome OS, which involves touchscreen functionality. The only downside is that your app won't be accessible from the extension bar. You will simply have to open a new tab and access the app from there.
You can use the app for creating/editing notes, crossing out to-do lists and add images. It's pretty simple and straight-forward, but it has all we need from a Google Keep app. I do wish it could be sitting next to my extension buttons, though.
Go ahead and check out the Google Keep Chrome app by downloading it straight from the Chrome Web Store. Give it a go and let us know if it is satisfying your needs!
[Google]