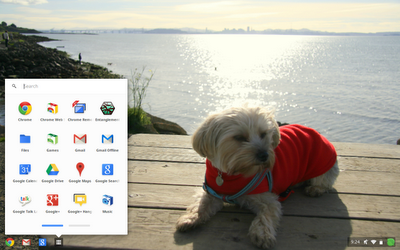 Chrome OS is considered the "always new computer" for good reasons. Chrome OS devices are light, easily upgradeable and very snappy, and this week's update makes users' experience just a bit better.
Google's update includes a better Apps List with a smaller, less intrusive design. It also features a handy search box that will aid you in finding anything; whether it be in your Chrome OS device, specific websites or anywhere in the web. Think Windows search but baked with internet in mind – truly a convenient to-go tool for any search.
In addition, Google Drive has been integrated deeper into the ecosystem. Users can now save files directly to their Google Drive, making for a much more seamless way to access your content with other devices. And if you are tired of those boring backgrounds, you can now also change the wallpaper. So that is your cherry on top.
Those are the most important updates, there is also a flurry of improvements that most users won't find unless they are really looking for them:
Under the hood, we've added audio support for USB and HDMI, additional sandboxing security features, and many more bug fixes.
So there you go! Update your Chrome OS computers and hit the comments to let us know how the update is treating you. I am a big cloud storage user, so I am definitely welcoming the Google Drive integration.