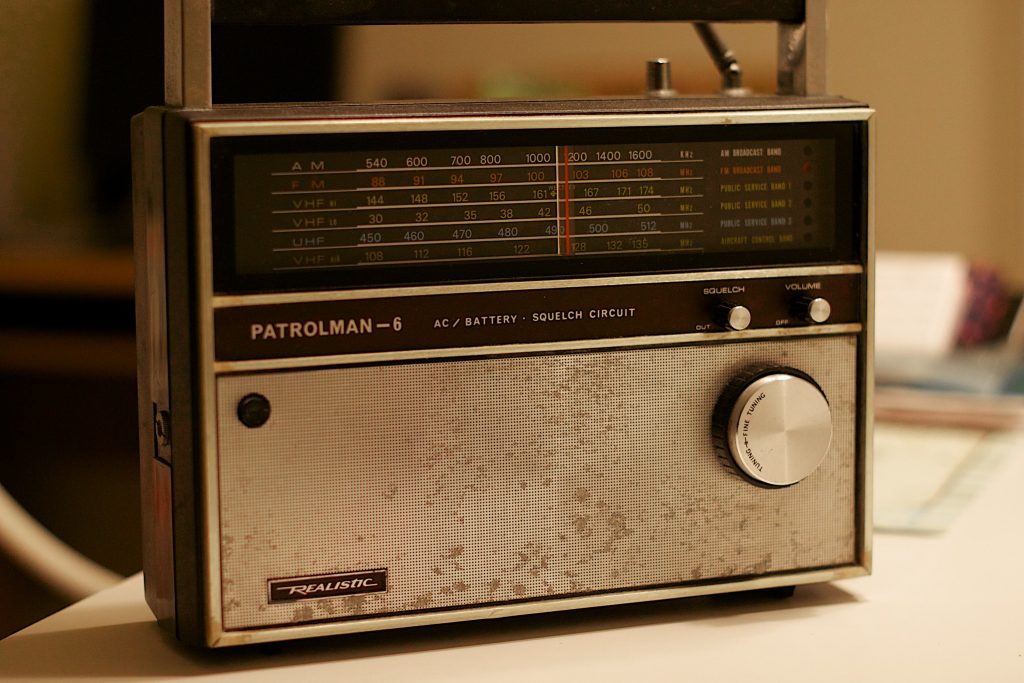 The United Nations' number one goal is to promote world peace. This February 13th, World Radio Day, UNESCO (the United Nations Educational, Scientific and Cultural Organization) will call on radio stations across the globe to celebrate the event's 10th anniversary and more than 110 years of radio. This year's theme is New World, New Radio.
Radio Memories Last a Lifetime
What do you think of when you hear the word "radio"?
For me, it's summer, riding in the back of a station wagon with dust blowing in the open windows, squabbling with my siblings. On the radio a song begins — just a simple piano chord, then a trumpet swoops in… "I may not always love you."
Decades later that intro still pulls me right back. I can feel the summer sun setting and hear the Beach Boys singing "God Only Knows."
For you maybe it's Michael Jackson singing Bille Jean, Nirvana wailing Smells Like Teen Spirit, Jay-Z rapping H to the Izzo, or LMFAO blasting Party Rock Anthem. The radio brings enjoyment to us individually and camaraderie to us collectively.
How could radio waves, a type of electromagnetic radiation traveling at the speed of light, have been beamed into a vehicle bumping along a dirt road? How could something from so far away bring peace to our little corner of the world?
Who Invented Radio?
In 1894, Guglielmo Marconi started to understand that radio waves could be used for wireless communication. He would fully develop and perfect the use of radio over the next 25 years, and the first World Radio Day was celebrated in the place he conducted much of his research (University of Pisa in Italy).
Radio is the oldest broadcast media. Its invention brought rapid changes in society. There are so many practical uses: weather, news, sports, flight, aerospace, the military, entertainment, transportation. Marine radio was the first commercial application of radio technology, allowing ships to keep in touch with the shore and with other ships, and send out calls for rescue.
Radio Takes Over America
Radio brought us together like nothing before ever had. People were shocked by news of the attack on Pearl Harbor in 1941. They gathered across the country to be reassured by the president – "The only thing we have to fear is fear itself!"
The family radio brought folks together to laugh at popular comedy shows like Fibber McGee and Molly. Kids used decoder rings to listen for clues to puzzles embedded in kids' shows (like in the movie "A Christmas Story"). Many were hooked on the continuing dramas of early soap operas (so named because of their ads for soap).
In 1938, "The War of the Worlds," a radio play, was broadcast live. The play mimicked the style of a live news report about the invasion of Earth by Martians. Some thought it was a real news broadcast and that Earth truly had been invaded. (Easy to do if you tuned in after the play had already started!) The play was powerful and believable, and listeners felt like it was really happening.
Pirate Radio
You can't talk about radio without mentioning rock 'n' roll. But in the early 1960s in Great Britain, radio was forbidden to broadcast rock music! Some disc jockeys took to the sea in order to broadcast from international waters to avoid breaking the laws. Old fishing ships were outfitted with improvised radio studios and broadcast within a range of 500 miles. The most famous ship was Radio Caroline (shown below), an old Danish ferry. Her first song played on the radio in 1964 was "Not Fade Away" by the Rolling Stones.
The pirate radio broadcasts reached 20 million eager listeners in Great Britain. The young bands they played, like the Rolling Stones and The Dave Clark Five, had some of their first hits because of the Radio Pirates. The DJs enjoyed their own stardom, but broadcasting out at sea had its drawbacks, such as turbulence and bad acoustics. The Radio Pirates had a short reign but they opened up Europe's radio stations to the power of rock 'n' roll.
Radio's Global Reach
UNESCO promotes radio because it's free to listeners and affordable to communities. Check out the UNESCO website for inspiring stories about isolated communities improving the lives of their citizens with – you guessed it – installing a radio station!
In an area of Papua New Guinea recently, radio was desperately needed. "The communities are remote… the only link is by bush tracks through thick jungles, over mountains valleys and big rivers, which take days to reach the main highway…" Because radio was introduced, planes can now land safely, children have been educated, and healthcare has been expedited.
World Radio Day at Home
In the U.S. we have so many media choices, with TV and streaming services, movies on Blu-Ray or video games, each person in the household might be at their own separate screen. But World Radio Day is a reminder that we can come together and have a meaningful shared experience.
Ways to Celebrate World Radio Day
Have a radio-only night with the family. Take turns listening to classical or rap, Top 40 hits or a basketball game.
Listen to a recording of the original broadcast of "The War of the Worlds" from 1938. Do you almost feel like the Martians have landed?
Take a drive and let the radio accompany you. Adjust the dial to whatever strikes your fancy.
Use the radio to play Musical Chairs!
Visit www.worldradioday.com to sign up to receive a kit to help celebrate!
Create your own podcast!
Write a radio play. (For bonus points, record the play and use live radio music as the score.)
Reach out to your local radio station to arrange a tour or watch a broadcast. (Our family was able to do this a few years ago and met Dirk Maggs, the director of the original BBC recording of "The Hitchhiker's Guide to the Galaxy." He's still my friend on Facebook!)
Buy an old boombox or transistor radio at a thrift store. Explain the pre-internet world to any young people in the household.
Visit UNESCO's SoundCloud to experience some of the international community radio stations.
Find a local community radio station and offer to volunteer or even host your own show.
Most of us won't have a chance to travel across the world building new radio stations. But we can still celebrate World Radio Day. We can all promote world peace, even if it's just in our home (or station wagon)!