Turning on Google Sync completely changes the way you look at the web. It makes Chrome much more intuitive and parallel across devices. I like knowing that I can pull out my opened tabs from any device with Chrome, or have the same bookmarks, passwords, history and other info. But where exactly do we draw the line between an intuitive experience and a potentially dangerous privacy issue?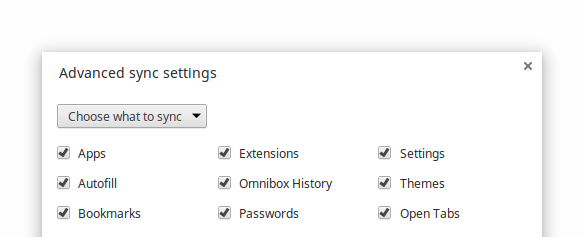 We can trust that Google is doing a fair job at keeping our information safe, but it is always good to stay informed about what goes on behind your screen. Renowned developer François Beaufort has given us some great information about what happens when one syncs information to a Google account.
Of course, we can already tell what is being synced by going to Advanced Sync Settings within Chrome, but here is a more detailed explanation of the exact information being saved.
Apps:
– Apps
– App settings
– App Notifications

Autofill:
– Autofill
– Autofill Profiles

Bookmarks

Extensions:
– Extensions
– Extension settings

Omnibox History:
– Typed URLs

Passwords

Settings:
– Search Engines
– Preferences
– Dictionary

Themes

Open Tabs:
– Sessions

One last thing, as soon as you enable Sync, these items are also synced:
– Device Info
– Encryption keys
– Experiments
So there is quite a bit more information there than some of us may think. You can always pick and choose wich categories you want synced and which you don't, but we wish Google would let us choose between the sub-categories as well.
Don't forget we usually give away a good deal of privacy for the sake of convenience. Regardless, you can take this information and make the best decision based on your needs. Will any of you be unchecking some of those Google Sync boxes in the settings?
[via François Beaufort]