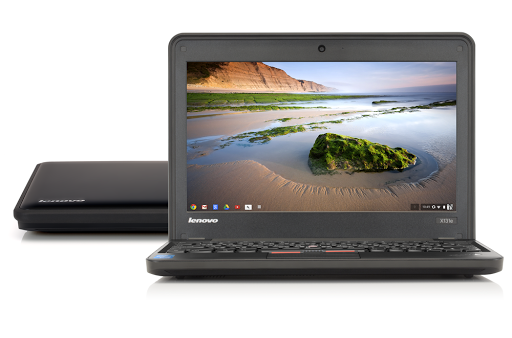 Chromebooks are booming and we are starting to see more and more manufacturers jump into the game with their latest web-based computers. Here is one we didn't expect to see around this site for a while, though… Lenovo. The computer maker has just announced the ThinkPad X131e Chromebook, with the company's renowned design and build quality, but featuring the efficient and fast Chrome OS.
Lenovo ThinkPad X131e Chromebook Specs
Google Chrome OS
Intel processor
11.6-inch 1366×768 HD LED anti-glare display
HDMI & VGA ports for screen mirroring/sharing
Rugged design
Other details are still to be revealed, but we know Chrome OS doesn't need much horse power to perform like a champ. What differentiates it from the rest of the Chromebooks is mostly it's design. Its specs are not really superior and the price is not nearly as tempting.
Built for education, the Chromebook's rugged nature will help keep the tablet working through the worst of treatments. The computer is nearly identical to the ThinkPad X131e with Windows, the only difference being the operating system they carry (and the processor).
Sadly, not everyone will be able to benefit from this Chromebook's strong build. The computer will only become available for schools (at least until further notice). It will be released starting February 26, but only "via special bid volume pricing starting at $429." Not exactly the cheapest Chromebook we have seen, but K-12 institutions wanting to benefit from rugged computers might be more than willing to take the plunge.
We strongly believe in using Chromebooks for education. These are easier to manage and much simpler to use compared to a traditional computer. Since the experience is web-based, it is also an advantage to be able to log in and off any other Chromebook in campus. We would like to see these become available to other consumers that require rugged Chromebooks, though, even if the price is a bit steep.
Lenovo Introduces Rugged ThinkPad Chromebook for Schools

RESEARCH TRIANGLE PARK, N.C. – January 17, 2013: Lenovo (HKSE: 992) (ADR: LNVGY) today announced the ThinkPad X131e Chromebook — a fast booting, highly customizable laptop PC built with rugged features for the daily rigors of K-12 education. The ThinkPad X131e Chromebook simplifies software and security management for school administrators and provides students and teachers with quick access to thousands of apps, education resources and storage.

Throughout the course of a typical school day, students' laptops are often subject to extreme wear and tear. To help school-proof them, the ThinkPad X131e has rugged features including a rubber bumper around the top cover and stronger corners to protect the system in the case of an accidental drop. The hinges and hinge brackets are also strengthened to last more than 50,000 open and close cycles.

"The ThinkPad X131e has proven to be very successful in education environments," said Jerry Paradise, executive director of product marketing, ThinkPad Product Group. "With the rugged features we added to the X131e, we've seen reduced failure rates in the field. This is a huge benefit to schools and students. We're pleased to be able to offer this hardened ThinkPad Chromebook as a great computer for schools."

Latest Tools for Today's Digital Learning Environment
Lenovo's ThinkPad X131e Chromebook, provides students, educators, and IT administrators with an intuitive, easy-to-manage, and rugged laptop for all their computing needs right out of the box. Using Google Apps for Education along with thousands of web apps in the Chrome Web Store, students can easily create documents, edit spreadsheets, view multimedia videos, create slide show presentations and view PDF files.

Students can use the low-light webcam to communicate with students in other schools across the world or just across town. They can also easily connect via WiFi and Chrome's fast start up gets students online instantly. With HDMI and VGA ports, students can present their reports to the class with a projector or big screen TV.

The 11.6-inch X131e laptop features an Intel® processor, a 1366×768 HD LED anti-glare screen, and three USB ports. At less than four pounds1 and battery life for the entire school day, students can easily carry the laptop between classes without the need to recharge.

Recognizing that one laptop doesn't fit all, especially when it comes to schools, the ThinkPad X131e offers a number of customization options including custom colors, asset tagging services to help keep track of devices left on the school bus or in the classroom, and school logo etching to make every device unique to each educational institution2.

"Chromebooks are in use today by more than one-thousand K-12 schools, and they make an ideal one-to-one device because they're more cost effective, easier to manage and maintain than traditional laptops or tablets," said Caesar Sengupta, director of product management, Chrome OS, Google. "Lenovo has a great reputation in schools for making durable and reliable laptops, so we're excited to partner with them to introduce the ThinkPad X131e Chromebook."

Student Tested, IT Approved
As millions of students in education institutions across the country continue to use Google Apps for Education, administrators need a system that is easily manageable but also provides the layers of security required to safe guard a school's ecosystem. In conjunction with Chrome's built-in protection, Chromebooks allow schools' IT teams to manage security and scalability through one dashboard. This allows IT professionals to configure and manage devices all from one place, saving time, resources and money rolling out multiple computer images.

For the always budget conscious educators and school administrators, Chromebooks cost less than most high end tablets and according to the IDC, require 69 percent less labor to deploy and 92 percent less labor to support3.

Pricing and Availability
The ThinkPad X131e Chromebook will be available starting February 26th via special bid volume pricing starting at $429. Interested K-12 institutions should contact their Lenovo Sales Representative.

For the latest Lenovo news, subscribe to Lenovo RSS feedsor follow Lenovo on Twitterand Facebook.

About Lenovo
Lenovo (HKSE: 992) (ADR: LNVGY) is a $US30 billion personal technology company – and one of the top two PC makers globally, serving customers in more than 160 countries. Dedicated to building exceptionally engineered PCs and mobile internet devices, Lenovo's business is built on product innovation, a highly efficient global supply chain and strong strategic execution. Formed by Lenovo Group's acquisition of the IBM Personal Computing Division, the Company develops, manufactures and markets reliable, high-quality, secure and easy-to-use technology products and services. Its product lines include legendary Think-branded commercial PCs and Idea-branded consumer PCs, as well as servers, workstations, and a family of mobile internet devices, including tablets and smart phones. Lenovo has major research centers in Yamato, Japan; Beijing, Shanghai and Shenzhen, China; and Raleigh, North Carolina. For more information, see www.lenovo.com.