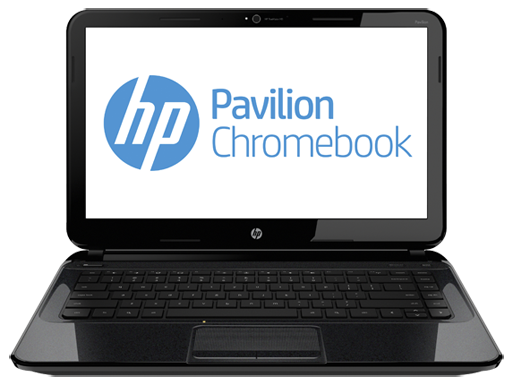 HP has officially announced and released a new Chromebook! Of course, Hewlett Packard couldn't keep this one under the blankets very efficiently. The company itself leaked this device last week when someone accidentally put the product sheet live on HP's official site. Not the smoothest move, but we are happy to see it officially released!
The HP Pavilion Chromebook is no average Chrome device, either. This bad boy stands taller with a 14-inch screen (1366 x 768), which is bigger than any other Chromebook's display. It also has a 1.1 GHz processor, 2 GB of RAM and 16 GB of internal flash storage. Remember to not look at the seemingly-low specs and automatically label it a piece of junk. These web-based computers don't need much to run faster than any other computer. We can bet your 14-inch Pavilion Chromebook will be mighty fast!
There is one thing we simply can't ignore, though – the battery is said to give you up to 4 hours and 15 minutes of juice. This lackluster battery life is still not as good as what we were used to (with older Chromebooks), but this sadly seems to be becoming the standard. We are sure that 14-inch screen plays a major role in draining that battery, as well.
You can find 3 USB 2.0 ports, an HDMI port, a 3.5mm headset jack and an HD front-facing camera in the exterior of the device. This computer might be great for media viewing and working, due to the larger screen (and expansion via HDMI). Not to mention that $329.99 price tag makes this deal look much more luring.
You can go ahead and purchase the Pavilion Chromebook straight from HP now. Will you be signing up for one of these bad boys? Would you enjoy a 14-inch Chromebook or do you think it's not necessary? Either way, it's always nice to have a choice!