Us Chrome fans are pretty much married with Google's services, but the web extends far beyond Google's walls. Anything that works well in the internet will work well in your browser. One of Gmail's biggest competitors is Microsoft's Outlook.com. If you are debating whether you should make the switch or not, you might find the latest update to Outlook exciting. Microsoft's email service will now support Google Talk.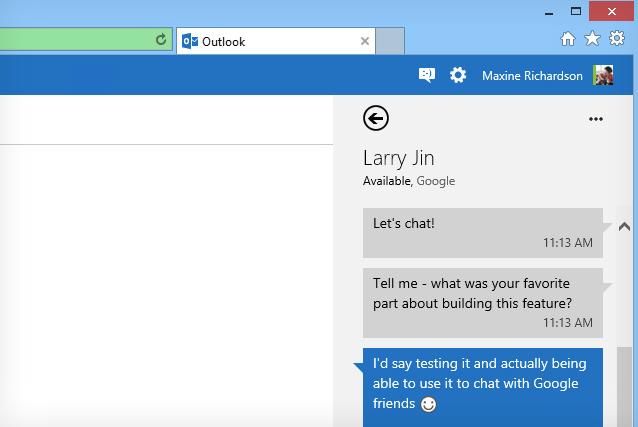 Seems like a crazy idea, but apparently many Outlook users were requesting Google's popular instant messaging service. Users will be able to keep in touch with all your Google Talk friends straight from Outlook.com, just like you would from Gmail. The new feature doesn't come without its caveats, though.
Outlook's Google Talk integration will only support text messaging for now. No video or voice. Dharmesh Mehta, senior director of Outlook, explains that these features could be implemented if they see demand for them rising. For now, you will have to stick to text, or go back to Gmail.
Google is expected to release Babel very soon, more recently known as Google Hangouts. Hangouts is said to merge Google's communication tools into a single messaging service. How this will affect Microsoft's Google Talk integration, we have no idea. We sure hope nothing gets broken, though. We would like to see our favorite Google services wherever possible. Hey, maybe some of Hangouts' new features will come to Outlook, as well.
[via: The Verge]