Talks of Google's sea structure have been making the rounds across the internet lately. It has been quite the mystery, almost to the point of making me feel like this is part of a fantasy RPG. We keep talking about the Google Barge like it's a hidden castle in the lands of San Francisco. Plans for the barge have been revealed and though it's far from a fantasy, it is a bit out of this world.
The barge is currently floating off the coast of Treasure Island, but that is only its birthplace. See the image above? That is a render of what the structure should look like when finished. Once completed, it is expected to be an "unprecedented artistic structure" that will sail all over the west coast of California.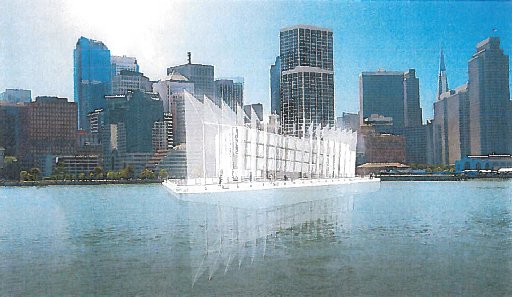 The sea structure will rise up 50 feet and be 250-feet long, all made of recycled shipping containers. If that wasn't impressive enough, the ship will have sails "reminiscent of fish fins, which will remind visitors that they are on a seaworthy vessel." In short, it will look like one big, shiny fish floating around the Bay Area.
No wonder Google has been keeping quiet, it will be quite the surprise to see this structure floating in The City. What exactly is the point of this structure, though? Google is planning to make this a tech exhibit space. It will not be a store or anything like that. In fact, it won't even be exclusive to Google products and services.
Google seems to be planning to make this a space for "local organizations to engage with guests and gain visibility in a unique way."
"We envisioned this space with community in mind. A surprising environment that is accessible to all and inspires conversation about how everything is connected — shorebirds, me, you, the sea, the fog and much more." -By and Large
Interesting, right? Still a little confusing, but at least we know more about this work of art now. The idea is that it will be traveling from place to place, hosting about 1,000 visitors a day. The barge will be in San Francisco, Fort Mason, Angel Island, Redwood City and Rosie the Riveter Historical National Park in Richmond. At first, that is.
It will stay in each place for about a month and then travel to the next. After the Bay Area is covered, the big fish will sail to San Diego and other main cities in the West Coast. And I will be waiting for it right here!
Let's hope they have some Google products in there, as well. Google can't just do all of this and not show off its own goodies! I would love to see some Chromebooks while I enjoy a cocktail in Google's big fish!
[SF Gate]