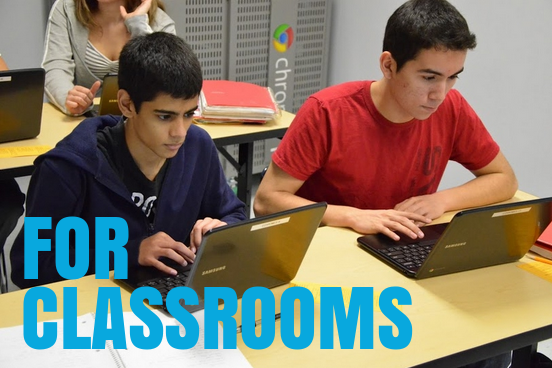 Google has announced that over 2,000 schools are now using Chromebooks to improve teaching and learning. This is twice as much compared to 3 months ago, so you can see how significant this jump is. Chromebooks are really booming and we don't expect this explosion to stop any time soon.
We are huge believers of using Chromebooks for education. They are simple, fast, easy to manage/mantain and very portable. For some, it is really the ideal computer. I go into more detail on the pros and cons in my editorial, so check that out to learn more about the benefits of Chromebook in the classroom.
Ultimately, the web is "where it's at". All services are moving to the cloud, manufacturers are even starting to limit internal storage. We are entering the age of "the cloud" and Chromebooks are optimized just for that. There is a lot of room for growth, though. The next step is to rid the web of its limitations.
What does this mean, exactly? While Chrome OS is perfect for most tasks, some students simply can't do without a full-fledged operating system. Photography students need their Photoshop, videographers need their Premiere, and so on. I recently spoke with a physics teacher I used to have in high school. She was taken away the rights to use school computers because of her focus (for some reason the education system believes scientists don't need them). She was thinking of going the Chromebook route, but needed compatibility with Vernier software. Of course, that isn't available, but not necessarily because it's not possible.
The web can be more than capable of running many programs and apps, but until Chrome OS gets more exposure companies won't start developing web apps. I would love to see probe ware being connected to Chromebooks via USB and used with a web app! If our favorite web-based OS continues to grow at this rate, such things will be possible soon.
[via Google]