Just a quick post to let you know the Chromium Blog has posted an article to announce a new feature found in the latest dev build – as the title says – the ability to delete "plug-in data".  This includes Flash Player data!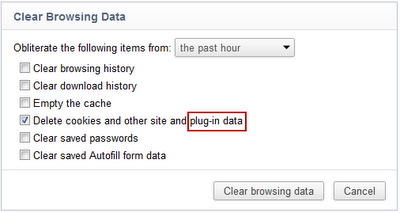 (As one might expect, these cookies are included in what all clears out when you set Chrome to delete cookies when you close the browser.)
This is great news for people who want to really keep their install squeaky clean. Previously, one would have to visit Adobe's site to have these cookies cleared out. Of course, this comes with little shock and surprise – as I imagine Adobe is looking to do whatever it takes to make the use and maintenance of Flash as painless as possible – considering the broad use of HTML5 on the horizon.
As far as they know, Adobe Flash is the only plug in making use of the API developed by Google and "others in the web community". Hopefully others will follow suit!