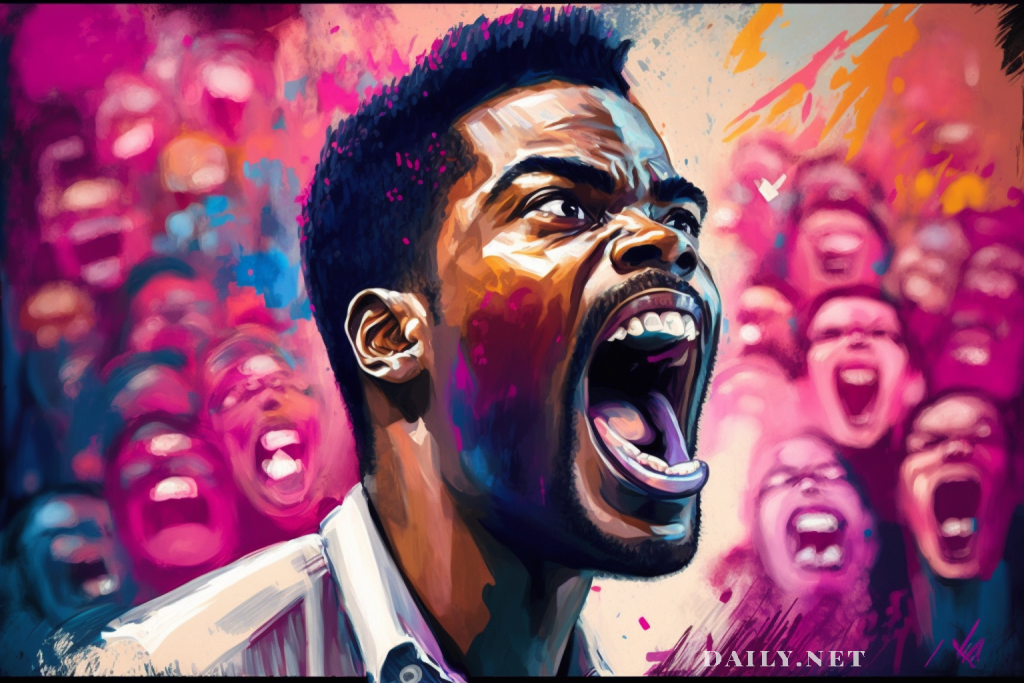 What: Chris Rock – Selective Outrage
Where: Netflix (filmed in Baltimore, MD)
When: Sat, March 4th @10PM ET
Pre-Show: 9:30PM ET
Stream Starts: 9:20PM ET
It's impossible to deny that Chris Rock is comedy royalty. You can argue whether or not his face should be chizzled in the Mount Rushmore of standup, but his funniness is unquestioned- he's one of the greatest comedians of his generation and it's not up for debate.
Rock went on a ridiculous run of success in the 1990s and early 2000s, and although he's still massively successful year-in and year-out, it seemed impossible he'd regain the star power of his prime.
Then…
Will Smith slapped the shit out of him.
On live TV.
At the Oscars.
While he was hosting.
He barely flinched, then continued hosting, seemingly unphased. In fact, Rock was so un-rocked by the massively wound-up palm punishment that it seemed staged.
Suddenly, Chris Rock was at the center of the entertainment universe once again.
Will Smith apology
It took months, but eventually Will Smith made a full apology in an official video statement.
Although Rock was amidst a national standup tour of his own, he vowed not to address the Will Smith slap until the appropriate time. He chose wisely, leveraging the incident to capture a historic and lucrative payday with Netflix.
It's worth pointing out that "Selective Outrage" is actually the second half of a $40-million 6-year old deal with Netflix, but we're guessing that after "the slap", Mr. Rock was wise enough twist Netflix into re-negotiating some incentives.
Dave Chappelle attacked
Hecklers have always been a thing in standup, but in many ways, Will Smith emboldened the most annoying of comedy club patrons to be louder, more confrontational, and violent. As more incidents were reported, "attacking comedians on stage" had seemingly become a national epidemic.
And then someone in the crowd attacked Dave Chappelle.
Hilariously enough, Chris Rock and Dave Chappelle are good buddies, and the famed rapper was there to rush in for moral support, dropping a one-liner piece of comedy gold.
Rock would make light of the Smith slap throughout his tour in the coming months, but mostly here and there and in passing. It was always clear that Rock was building a warchest of hilariousness to unleash all at once in a targeted rebuttal.
Eddie Murphy weighs in
Plenty of people have tried to use the Chris Rock and Will Smith saga as the slap punchline for their own jokes, but few have gotten as much press as Eddie Murphy's moment at the Golden Globes.
Has anyone else even come close?
What will Chris Rock say about Will Smith?
Anything is possible when Chris Rock takes the stage for Selective Outrage! What approach do you think he'll take? What specific jokes do you think he'll make?
Here are some guesses to get you going:
He'll admit the whole thing was staged
He'll go HARD at Smith, hurling a barrage of personal insults
He'll go EASY on Smith, showing he's matured and cementing his legacy
He'll have a well-rounded performance, mentioning Smith but not focusing on him
He'll invite Will Smith on stage, becoming an epic example of forgiveness
Let us know what you think by commenting on our social media posts!