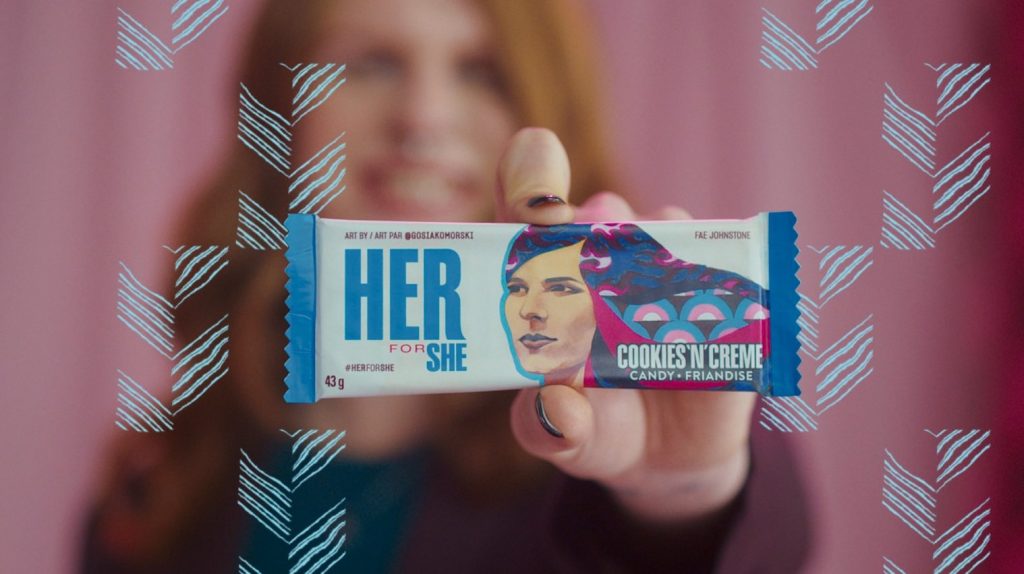 When big brands spend millions of dollars to win over the hearts and minds of the masses, they look for ideas that STAND OUT. When standing out is the goal, you often score points in controversy column, whether intentional or not. That's exactly what's happening to Hersey's Chocolate who find themselves at the center of a boycott surrounding their latest marketing gimmick.
In 2020, Hershey's had a eureka moment, noticing that their name was the combination pieces of female vocabulary: HER & SHE.
Since then, in celebration and support of women on International Women's Day (March 8th), they've used color, capitalization, and other design elements to help the "HER" and "SHE" in HERSHEY's stand out.
It worked: in 2021, Hershey's was named the #1 most female friendly brand in the world. They would continue their "SHE" campaign annually, including a 2022 advertisement featuring Mindy Kaling of "The Office" fame:
This year's campaign has ruffled some feathers.
In a Twitter post by "Queer, trans and feminist activist" Fae Johnstone, she announces that SHE – along with many trans colleagues – are the face of Hershey's International Women's Day campaign in Canada.
What happened next is predictable: the 1st amendment hate speech warriors furiously decided to #boycotthersheys, sending the phrase trending across social platforms. A diverse array of insults pronouncing that trans women are not real women scatter throughout replies and retweets. Yet again, the 1st amendment is good and "cancel culture" is a bad, just up until the point that you disagree with something.
You might be wondering: did Hershey's make a big mistake? Did they really intend to anger so many people? Will these boycotts impact their bottom line negatively?
Then it dawned on me: Hershey's doesn't WANT to be likeable. They want to be relatable. Something they accomplished in spades with their latest "SHE" campaign.
Although the ad may alienate a portion of Hershey's customers, there's another group of people that it embraces.
Here's the full ad spot: