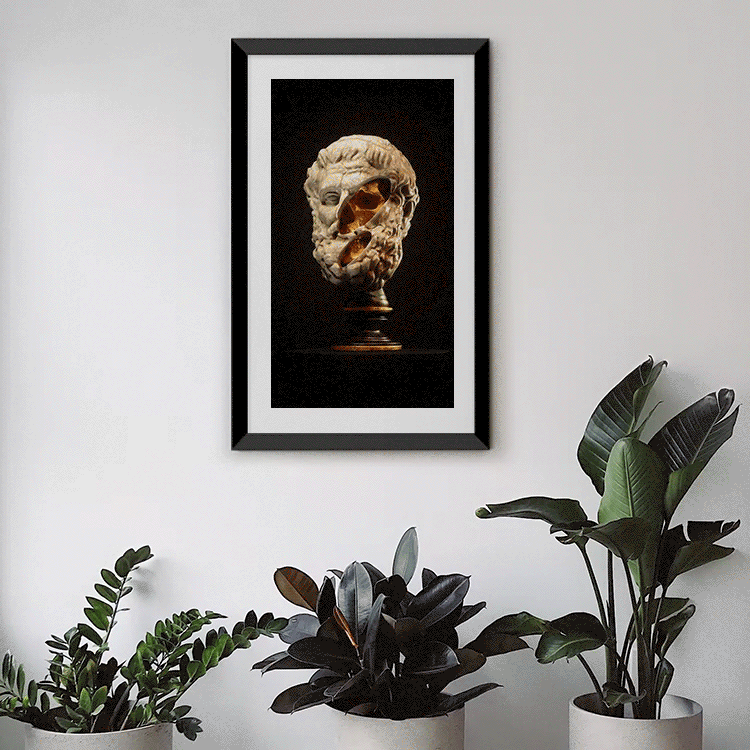 The Digital Renaissance has arrived and NFT Art is everywhere, but even experienced NFT collectors are wondering: what's the best way to display NFTs in real life?
There are lots of unique options — from Physical Prints to Digital Displays and into the Metaverse. Whether you want a small Digital Photo Frame, large Custom Canvas, or something mind-bendingly new like a Video Print- it's all here.
These are the 9 best ways to display NFTs in real life:
(links to products we recommend may earn us commission)
While weighing the options, you'll also want to keep in mind the size, shape, and format of your NFTs. Do you have a square NFT or is it rectangular? Is it an image or a video? What's the file type, file size, and resolution?
There are many factors that could influence your purchase decision. We'll cover them all and hope to help bring your NFT to life in all its web3 glory!
(1) Tokenframe
Of all the ways to display your NFT in the real world, Tokenframe is our favorite. Tokenframe's complete and dedicated purpose is to showcase your NFT Collection in the most brilliant way possible, taking into consideration the unique challenges and opportunities of Digital Art.
Rectangular or square; photo, video, or animation- Tokenframe does it all.
With a variety of size, shape, and color options, you'll easily find the perfect NFT frame for your space:
4 frame colors (birch, mahogany, white, black).
Every Tokenframe comes with a rotating wall mount so you can switch between horizontal and vertical NFTs. Your frame will auto-detect the screen orientation and display accordingly.
After connecting your NFT wallet to Tokenframe via web3/Metamask, you'll be able to organize and display your collection, with advanced customization options in the Tokenframe app.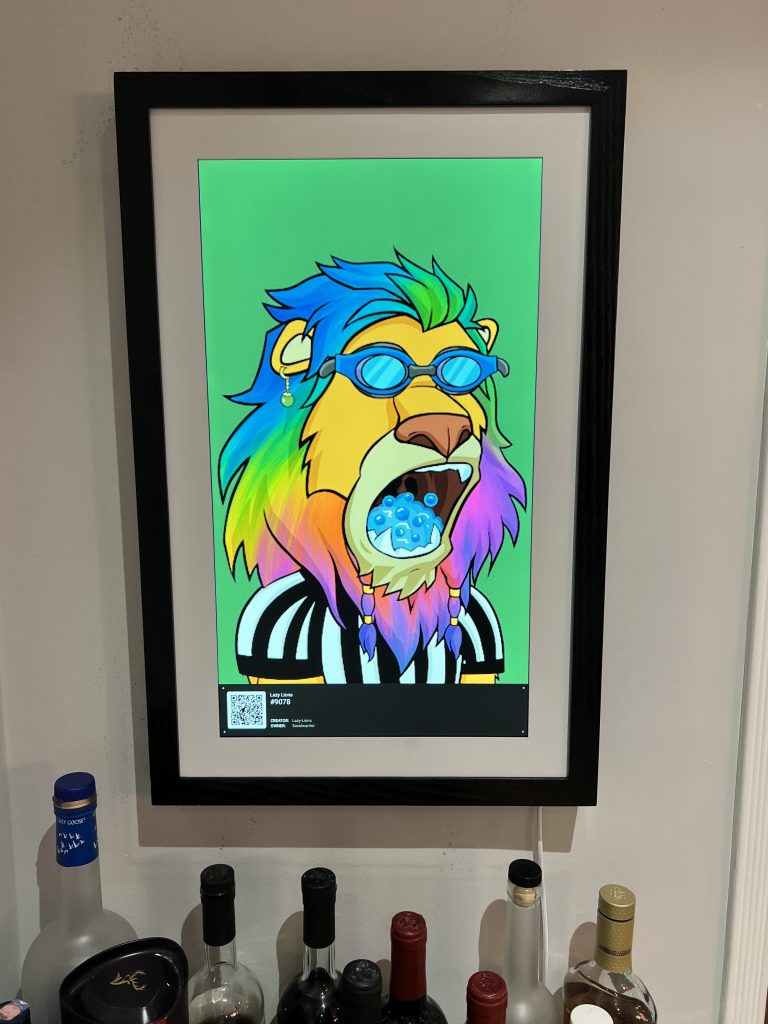 Keep in mind that Tokenframe is a brand new company launching a 1st generation product. As always, early adopters should be prepared for possible roadbumps. As the Tokenframe reviews start rolling in, we'll keep you updated.
(2) Level Frames
If you want to print and frame your NFT, there's no better option than Level Frames. They're top notch in the traditional art world (custom canvas frames and canvas prints) and are now pioneering the market for NFT prints.
Take for example Level Frame's integration with Meta Angels NFT that allows you to order an NFT Print directly from your OpenSea account, getting a 10% discount in the process:
Benefits of Level Frames include:
Museum-quality materials
Curated selection of 17 beautiful frames
Optional Luster or Matte finish
Easy mounting hardware/instructions included
Long list of happy customers
Reasonable price (but not cheap)
You can print any NFT with Level Frame by connecting your web3 wallet, picking your NFT, selecting your options, and then boom: take my money! Level Frames will attempt to use the highest resolution image available to your wallet, but sometimes a larger image is available for download elsewhere. The best places to check are (1) Unlockable content on OpenSea, (2) Creator's Official Website, (3) Project's Discord Server.
If you're able to locate a higher resolution image than Level Frames can automatically find, upload it directly to Level Frame's system for printing.
If you want framing made simple, look into Level Frames: they'll beautifully frame any photo, offer hundreds of customization options, and have a track record of pleasing customers.
And let us not forget the all-important charitable aspect: every order plants a tree.
(3) Infinite Objects
Among the most unique NFT displays, Infinite Objects have mastered the art of framed NFT video prints. When you purchase an Infinite Object you're choosing to enshrine a single video NFT into physical history: each frame is attached to one NFT that cannot be changed, looping endlessly.
It's become hugely popular with fans of NBA Top Shot:
But Infinite Objects works really well with looping all types of NFTs, like this incredibly cool piece called "City Walk" by Frank Guzzone: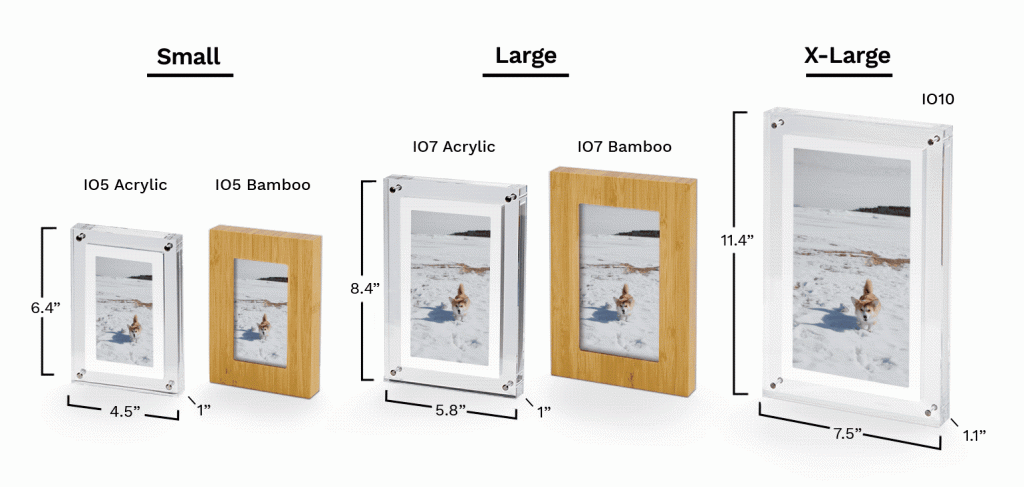 Infinite Objects range in price from $79 to $300 and come in 3 sizes:
Small: 6.45″ x 4.5″
Large: 8.4″ x 5.8″
XL: 11.4 x 7.5
It's worth noting that Infinite Objects are intended to be left plugged in but will last for 2 hours unplugged. The company stands by their always-on minimum lifetime of five years: not exactly infinite but an admirable claim. Can you imagine how different the NFT world will be in 5 years?
Infinite Objects won't appeal to everyone, but if you're looking for a cutting edge NFT Frame to play a specific video or animation, this is an amazingly novel solution that's fun to display. If you feel like a collector at heart, Infinite Frames are for you.
(4) Samsung Frame TV
Among the most extravagant solutions for displaying your NFT Collection is The Frame TV by Samsung. It's also among the most expensive: this powerful piece of high-end hardware comes in a stunning 85-inch version that costs $4K. But if you can afford the Samsung Frame TV and have a designated place for it, you will be blown away by its performance.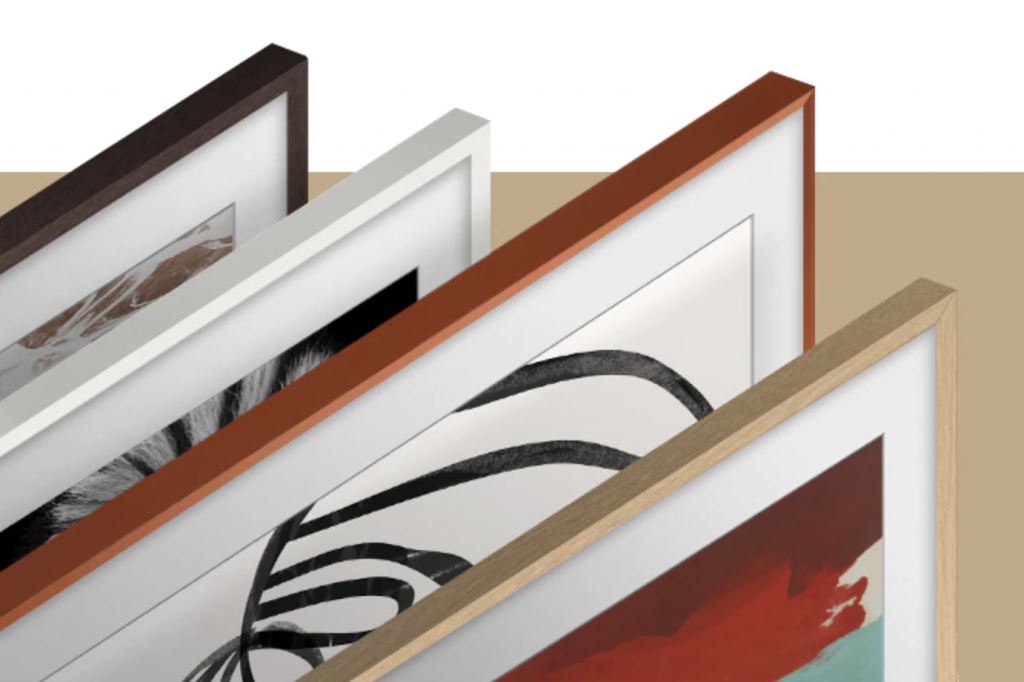 The Frame sits flush to the wall like a piece of fine-art: it's ultra thin, hangs like a canvas, and features a variety of colorful magnetic frames that easily and interchangeably snap into place (Black / White / Beveled White / Teak / Brown / Red).
To display both vertical and horizontal NFTs you can buy a rotating mount that allows you to switch between portrait and landscape display.
The Samsung Frame TV comes in 7 sizes:
32″ / 43″ / 50″ / 55″ / 65″ / 75″ / 85″
And the tech specs check out beautifully:
4K / QLED / HDR10+ / Smart TV / Voice Assistants / etc
Perhaps best of all, the aSamsung Frame TVs will get better with time: the manufacturer has announced it will add NFT support to its 2022 TV lineup, including its very own NFT marketplace. If you're looking for a tried and true NFT display solution that will look gorgeous for years and years to come, The Frame TV by Samsung is worth trusting.
Smart TV for NFTs
Not everybody wants to drop thousands of bucks on The Frame TV by Samsung, nor is it a requirement for beautifully displaying your NFTs. And in fact, the most important decision when displaying NFTs on Smart TVs is choosing the right TV mount.
If you buy a Smart TV for displaying NFTs, make sure you buy a low-profile TV mount that rotates! We recommend the low-profile rotating wall mount from Mount-It. Your TV will sit close to the wall like a picture frame while easily allowing you to rotate between portrait and landscape orientation to match the shape of your NFT.
If want something cheap and multi-purpose, we would suggest cheap Android Tablets for photo frames and Hisense Smart TVs for wall art.
(5) Meural by Netgear
Although Netgear is most commonly known for their routers, they've turned heads with their impressive entrance into the NFT Display space with Meural by Netgear.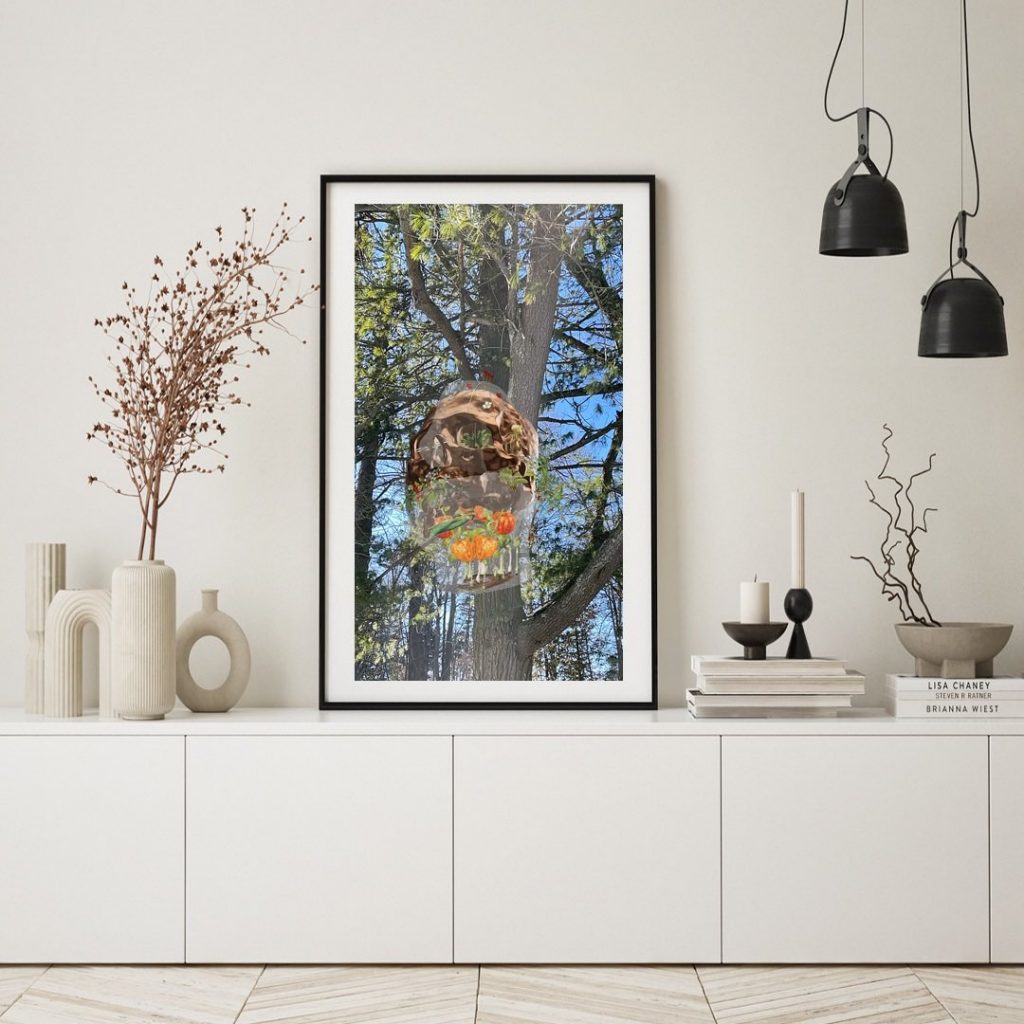 If you're looking for reliability in a crowded emerging market, check out these three Meural options:
In addition to displaying your own NFTs via Metamask, you also have access to an exclusive library of 30,000+ art pieces that include masterpieces from the greats and new pieces from emerging artists.
Perhaps the neatest feature of Meural is its ability to display Async Art, allowing artists to create art that dynamically changes depending on factors such as the time, weather, or even stock market prices.
(6) Tokencast
Most methods of printing your NFTs are all-in-one-solutions: click some buttons, pay the man, and a box arrives on your doorstep. But if you're a handy person who likes tinkering and enjoys a good deal, you'll want to explore the DIY NFT display solution called Tokencast.
You'll need about $360 worth of equipment and can follow these instructions to create your own NFT Display. Looking for another DIY alternative? Try Dynaframe.
(7) Canvia Digital Art Canvas
Another great option to put your NFT in a Digital Frame is the Canvia Digital Art Canvas.
The Canvia a 27″ x 18″ HD frame that comes in 4 colors (white, black, wood, cherry), works with both iOS & Android, and allows you to connect to your crypto wallet to display your NFTs. You can also choose to display 10k+ works from 525+ artists in the Canvia Art Library.
(8) SolidNFT
Printing art on metal is all the rage these days – it can really make colorful pieces POP! If you want to turn your NFT into a metal print, look no further than SolidNFT.
This is a custom solution with no fixed price: each job begins as an inquiry. The final product, especially when mounted using the Aluminum Framing Case featured above, is stunning.
You'll pay a pretty penny for SolidNFT but you'll get a super durable metal print of the highest quality that will last a lifetime (and beyond, because blockchain!).
(9) See Your NFTs in the Metaverse
Although we're far from realizing the dreams of the metaverse, several companies are already showcasing its power and working towards unlocking its potential.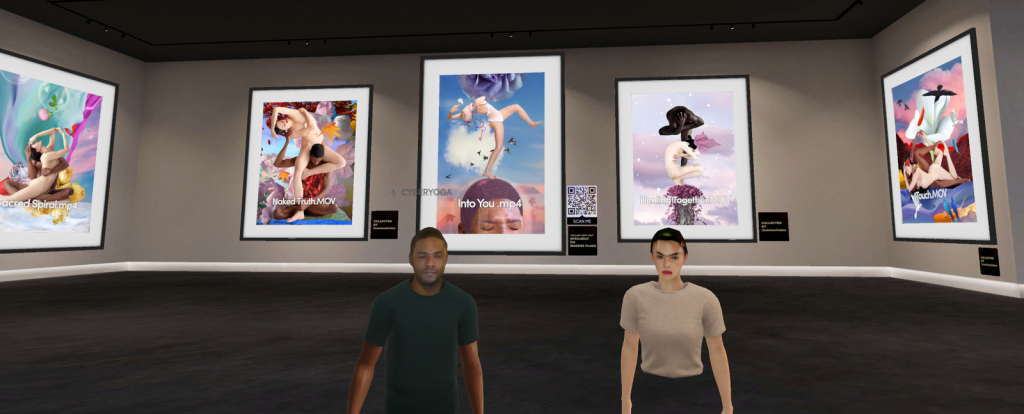 If you're looking for the best ways to display your NFTs in the metaverse, be prepared: it's a very deep (but fun) rabbithole. You can start by checking out these Metaverse innovators:
Enjoy exploring! We'll make sure to update you as the wonderful world of NFTs continues to grow.
Until then… GM! GN!