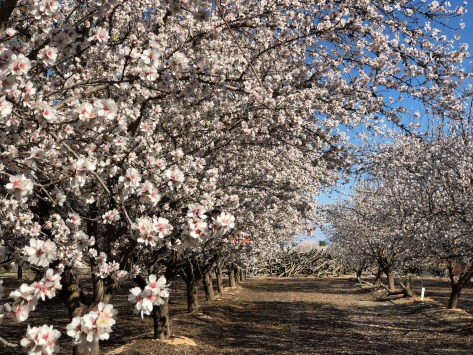 February 16th is National Almond Day! It's a day to celebrate not only a nut, but the beautiful tree from which it derives, coinciding with Almond Blossom Festivals across California and other almond-growing regions in the United States.
American Almonds have certainly had a history worthy of honor. Originally cultivated in the US South, to minimal success, it was not until the mid-19th century that cultivation began in California and created the most important almond-producing region in the world.
In the 1850s, plantings near Sacramento, Monterey, and Los Angeles were successful due to the lack of late frost and humidity, and a boom industry was born for California growers. Today, the state of California is the biggest producer of the world's almonds. Farmers in California produce 80% of the almonds we eat.
Almond Blossom Festivals
Blossom festival season might be the most beautiful time in America. The bluebird skies are filled with petals, and rows of what look like trees made of snowflakes sway in the wind. Almond trees are large and loamy with lovely white blossoms.
Blossom festivals are a favorite springtime tradition in The United States. We celebrate our many fruit trees — Apples, cherries, peaches — but the Almond Festival kicks off the season as the first in bloom.
There are 3 essential elements of a proper Blossom Festival:
Parade through Downtown
Crown an Almond Blossom Queen
Hold a Bake-off
Although they thrive in regions of the United States, Almonds aren't uniquely American. To the contrary, Almonds have been enjoyed across the world since the beginning of human time.
The History of Almonds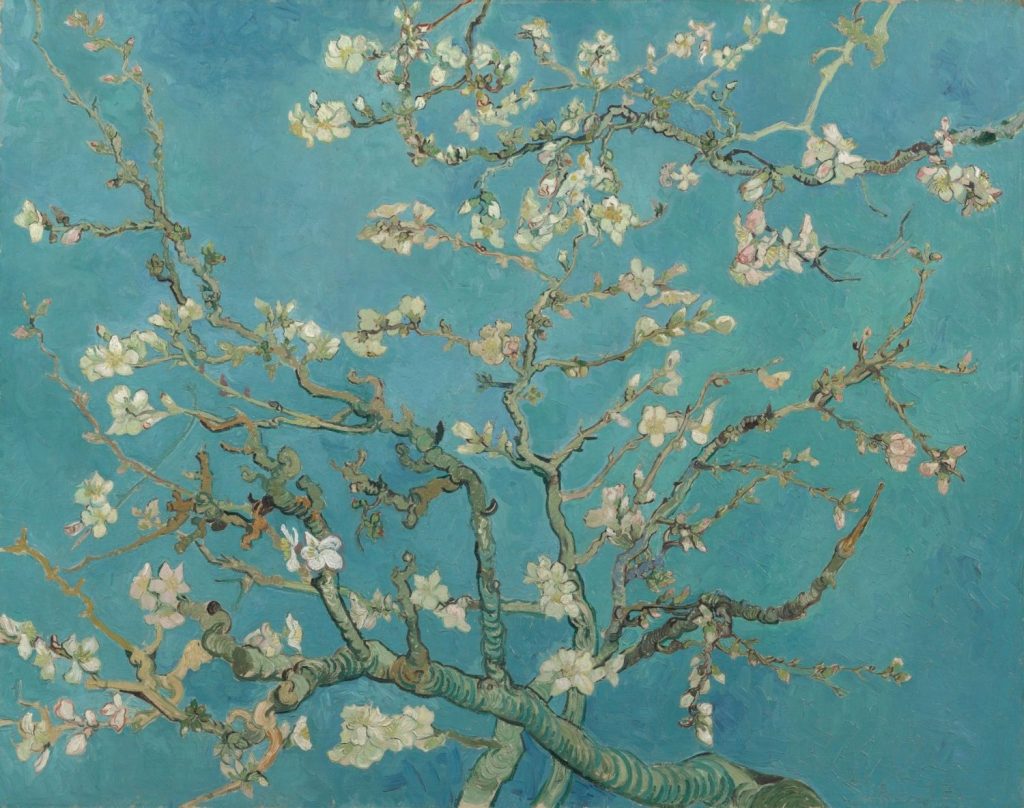 The almond tree (Prunus dulcis), related to cherries and plums, is native to Western Asia and Southern Europe and nearly every ancient civilization has eaten almonds, many since the beginning of history.
By 4,000 B.C. people were cultivating almond trees, which blossomed well in the drier lands surrounding the Mediterranean Sea. Almonds migrated in wild stands of almond trees that grew near trade routes such as the famed Silk Road. They spread quickly because almonds could take root in the ground when they were dropped or spilled during transport. Evidence of this is seen even today in central California. Wild species of almond trees can be seen growing alongside roads and highways.
Their prominence has even woven their way into the fabric of religion. Because almond trees are the first trees to blossom in Israel, ancient rabbis chose the time they bloomed as the new year for trees. The blossom shapes that were worked into the Temple menorah are generally thought to have been almond blossoms. The shape of the almond seed is prominent in religious art of the Renaissance as well; the distinctive oval of the kernel forms a halo around religious figures in paintings, stained glass windows, frescoes, friezes, etc. to symbolize spiritual energy or as a protective shield. For artists in Italy, the halo was often referred to as a mandorla, the Italian word for almond.
The almond has long been revered in art, music, and literature as a symbol of beauty, hope and rebirth. The Romans showered newlyweds with almonds for fertility in the marriage. Many North Americans give their wedding guests a bag of candied pastel-colored almonds, representing children, happiness, romance, good health, and fortune. As you can see, celebrating with Almonds is nothing new.
Are Almonds Healthy?
Almonds have noted health benefits and have been suggested to reduce heart disease risk by lowering total and LDL cholesterol and exerting anti-inflammatory and antioxidant effects. Almonds help cholesterol by slowing absorption of more dangerous fats. Almonds also contain phytonutrients that support the growth of beneficial gut microbes.
There is some evidence that almonds can help in regulating blood sugar levels. In 2006, a Journal of Nutrition publication looked at giving participants controlled meals based around almonds, rice, potatoes or bread. Researchers found that participants' blood sugar and insulin only decreased after eating the almond meal.
Celebrate National Almond Day… by EATING them with these Almond recipes
Well, by eating almonds, of course! Delicious raw, roasted, candied, and in a slew of various recipes, they are not only for baked goods and sweets, as many people believe.
Almonds have a place of special significance as they are present in nearly every diet worldwide. The world's most popular almond-inspired edibles include:
Dacquoise (French)
Easter bread (Germany)
Amygdolopita (Greece)
Kabsa (Saudi Arabia)
Chaqale badam (Iran)
Colomba di Pasqua (Italy)
Aamlou (Morocco)
Pasanda and Mughlai curry (India)
Turron (Spain)
Remember the "80's"? It's okay if you don't, but "Amandine" was the fanciest thing you could do to a food. Your Dad's favorite steakhouse definitely had "Trout Amandine" on the menu, because it was a classy place. Not to fear, it's not just for meat-eaters and Michelin star chefs, simply finish just about any dish with some sautéed brown butter and sliced almonds and you have got "amandine". Green beans are especially delicious served this way.
Almonds are luxurious, and they deserve this holiday.
How To Eat Almonds
You will need a proper almond-cracking tool and a fair amount of strength to get an unshelled almond open. Alternate advice involves whacking it with a large rock on a hard surface, but maybe just stick to the cracker!
Take a crack at it yourself! Here are some Easy Almond recipes to get you (healthfully) snacking fast:
Easy Tamari Almonds Recipe: The Ultimate savory snack!
Ingredients:
3 Cups Almonds with skin on
1/4 Cup Tamari
Pinch of sugar, preferably brown
Directions:
Spread out almonds on baking sheet, roast at 300 for 15 minutes.
While they are baking, combine tamari and sugar in a heatproof bowl, pour the hot almonds right into that mixture, toss well and return to the baking sheet.
Spread into one layer and bake again for about 25 minutes, stirring about halfway.
Holiday Honey Roasted Almonds Recipe
Ingredients:
2 cups whole almonds, skins on
1/4 cup sugar
1/2 teaspoon salt
2 tablespoons honey
2 tablespoons water
2 teaspoons olive or vegetable oil
*if you like a little heat, add a sprinkle of chili flakes!
Directions:
Spread almonds in a single layer on a shallow ungreased baking sheet and place in a cold oven.
Bring oven up to 350 degrees F, stirring almonds occasionally until the internal color of nuts is nice and tan (12 to 15 minutes). Remove from oven and set aside.
Combine sugar and salt. Set aside.
Stir together the honey, water, and oil in a medium size pan and bring to a boil over medium heat. Stir in the roasted almonds and continue to cook and stir until all the liquid has been absorbed by the nuts (about 5 minutes). Immediately transfer to a medium bowl and sprinkle sugar mixture all over and toss.
Spread out almonds on wax paper and let cool
Now comes the best part of celebrating National Almond Day: sharing your delicious homemade treats with your friends!