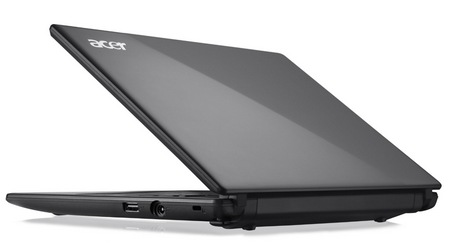 Chromebooks already have low sales numbers, so it is no surprise that a less popular manufacturer like Acer would have a harder time selling Chrome OS laptops. Acer's AC700 was not the most popular, with reviewers bashing its shortcomings left and right, but the manufacturer is not quite ready to give up just yet.
According to DigiTimes, Acer is set to release a second-gen Chromebook; likely a successor to the AC700. This 11.6-inch Chromebook will compete directly against Samsung's latest Chromebooks and Chrome box, which are probably the most successful devices of their kind. But will they have what it takes to compete against the Korean Giant?
Well, they better improve the many issues the predecessor had, including its lack-lusting keyboard, touchpad and low build-quality. Acer is not exactly the first-choice for customers looking for a new Chromebook, but let's hope they make it better this time around. They shouldn't disappoint us if they want to sell those 200,000 units they are hoping to ship monthly.
Said Acer Chromebook should be arriving next month, in October. We don't have any more details about the specs and features, but Chromebooks tend to be snappy, bug-free and over all fun to use. Let's just hope Acer brings us some great hardware to make it all smoother.
[Via: Digitimes]