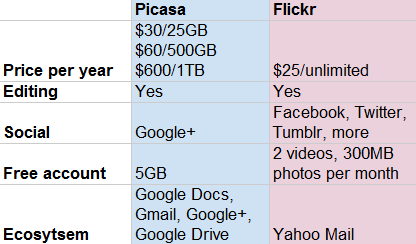 Google Drive has been announced and people are wondering if it's the best option for them. If you're into photography you might be wondering what Google Drive and Picasa can offer over Flickr. We've created the chart above with some comparisons of key features such as price and storage size. As you can see Flickr has an edge when it comes to storage because they offer unlimited. With roughly the same price on Google Drive you only get 25GB.
Social is another key aspect of Flickr. Google Drive is mainly just a place to keep all your photos, and maybe share a few to Google+. Flickr is its own social network with a huge user base, plus you can share photos to Facebook, Twitter, Tumblr, etc. One plus for Google Drive is the integration of Google services. Many, many people already use Gmail, Google Docs, and more. Flickr on the other hand really only integrates with Yahoo Mail.
If you're a socialite Flickr is still the best option, but if you just want to store photos for safe keeping Google Drive Picasa is the best bet.