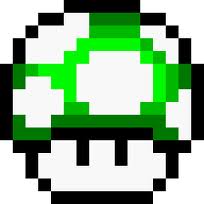 Regardless of what path we may have taken in life, most of us share memories about a very special game series – Super Mario Bros (and all its variants). In fact, you may be old enough to have met good ol' Mario back in 1981, when he made his first appearance in Donkey Kong. Regardless, most of us hold these games in a very special part of our hearts, and we can now re-live a bit of our memories on Google+.
1-Up for Google+ turns +1 buttons into 1 Up life-giving green mushrooms. Not only that, but the whole experience gets even funner once you actually +1 a post. Doing this will make your friends happy and even give you some extra joy by playing the now iconic 1 Up sound.
Of course, you can turn off the sound if you wish. But then where is the fun? Seriously, it will make you smile like the biggest nerd every time you click on that special green mushroom.
I know, I know! This extension is worthless in terms of functionality and actually… getting things done. That does not take away from the fact it is about the coolest thing I have seen in a while, though! Go get it!
Chrome Web Store: 1-Up for Google+